Orders placed with Label & Ribbon Pros are shipped as soon as possible. For stock items that usually means the same or next business day. Made to Order items will ship as soon as they are produced. Standard & expedited UPS shipping methods are available during the checkout process. Large orders will be shipped Best Way via common freight carrier.
Free Shipping
Our Free Shipping promotions include standard UPS/FedEx service with online order tracking and are only available in the Continental United States. Expedited shipping is available, but only at the customers own expense. Free Shipping promotions are always subject to change.
Expedited Shipping
Expedited shipping refers to options like UPS Next Day Air, Next Day Air Saver, 2-Day Select, etc. These options are available during checkout and the rates are pulled directly from UPS. Please feel free to contact us before expediting your order, most of the Continental United States is within a 1-3 day ship from our facility and expediting shipping may not be necessary.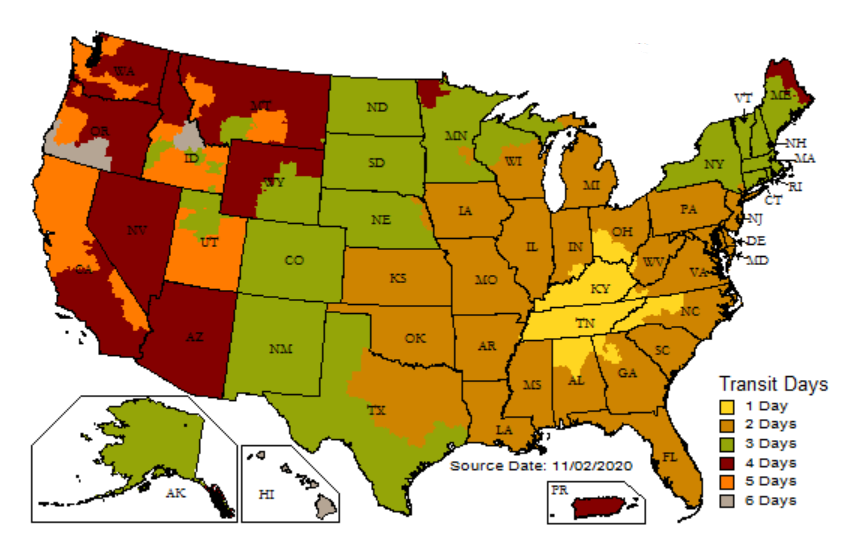 UPS Ground Services Map (courtesy of ups.com)
Collect/3rd Party Freight Accounts
We will gladly use your Collect/3rd Party Freight account for shipping. This includes UPS/FedEx for small orders and national freight carriers like R&L, Estes, etc. for larger LTL orders. Simply enter your freight account information online during checkout or call us to place your order over the phone. Collect/3rd Party Freight Accounts will be verified, and any charge backs from the carrier will be invoiced in full to the customer.
Shipping to Canada
Do we ship to Canada? YES! We will gladly ship orders to Canada, however, the customer is responsible for all shipping charges, taxes and fees. If you would like to place an order to ship to Canada then please call us, orders shipping to Canada cannot be placed online at this time.